First of all, thanks to YOU I was nominated for Best of Missoula's Best Realtor. If you appreciate these market reports, please take the time to vote for me HERE. You can vote up to once per day. https://missoulian.com/contests/best-of-missoula-2023/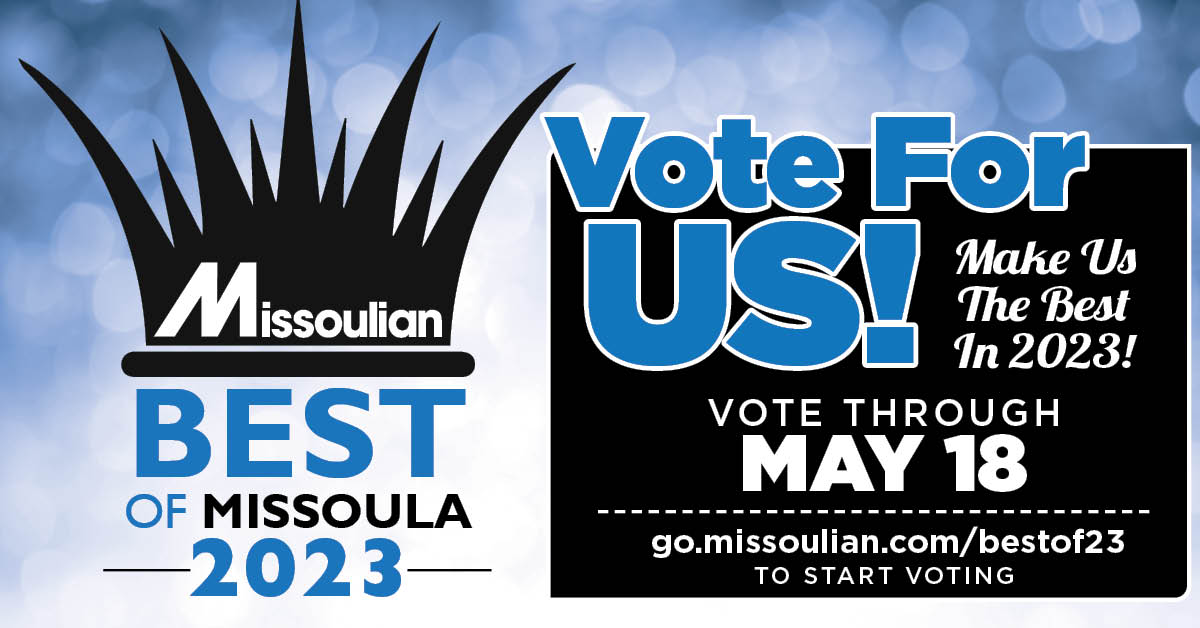 The Big Picture
Nationwide, there are 2 big economic trends influencing the housing market that I'm watching: economic growth and unemployment. GDP only grew 1% in the first quarter of this year, where experts expected 2-2.5% of economic growth. What does that mean? While several things contribute, the simplified version is that businesses and consumers spent less money. Inflation is also slowing, with the March Consumer Price Index at 5% year-on-year, the smallest increase since May, 2021.
Why You Should Care
The economy has been growing quickly, and the government is trying to slow it down by raising the interest rates. The Fed is expected to raise rates by .25% next week, but they have indicated this is the last increase for now. The First Republic Bank failure could postpone this rate change, but we will have to see what they do! Several prediction models are expecting mortgage interest rates to decline later this year.
Unemployment Trends
Employment is the other leg holding up the US economy. While unemployment is still historically low, new US unemployment claims are trending up. In particular, high income earners making more than $200,000 (hello big tech software engineers!) have filed for unemployment benefits at a record pace in recent weeks, according to Business Insider. https://markets.businessinsider.com/news/stocks/inflation-plunge-wage-growth-high-income-earners-unemployment-benefits-record-2023-4
Why You Should Care
High unemployment tends to correlate with lower home prices. Here in Montana, the unemployment rate was just 2.3% in February, an all time low for the state. With home construction and tourist season just ramping up, higher unemployment  in Western Montana this summer would be surprising.  Out of state tech layoffs are likely to have a bigger impact on the 2nd home markets in Lake and Flathead Counties, and on luxury home prices. Moderately priced homes in Missoula, and the connecting valleys are likely to continue to go up in value unless the unemployment rate goes up.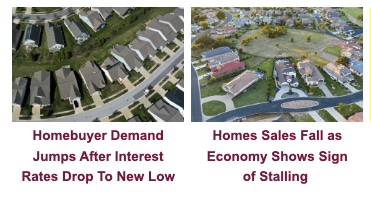 These 2 headlines showed up in my email inbox today. One said Homebuyer Demand Jumps After Interest Rates Drop to New Low while the other headline said Home Sales Fall As Economy Shows Sign Of Stalling. This tells the story of the current housing market paradox. Just remember: all real estate is local. 
Housing Trends In Western Montana
Across the region new listings are down, closed sales are down, homes have been taking longer to sell than a year ago, and a little more inventory is available. The main problem is that the homes for sale aren't what most people can afford.
Missoula County Market Report
In the city of Missoula, buyer demand remains strong and inventory of single family homes isn't keeping up. Looking at all of Missoula County, the median home price was $525,000 in March, a modest 1.9% increase from a year ago. However, focusing on single family homes in city limits the median price was up to $611,250- a 15.3% gain from March of 2022. As we move into spring weather, Missoula single family homes are moving fast and getting multiple offers. There are the normal exceptions to this for higher prices, weird layouts, or homes needing extensive improvements. Buyers are more selective than during the pandemic frenzy, but low inventory for affordable homes is making the buying process more competitive now than over fall and winter.
Looking closer at the housing supply, across all price points it would take 2.5 months to sell every home on the market. (A balanced market is 3-6 months of inventory.) However, there was 1.2 months supply of homes under $450,000, many of which were manufactured homes. There were 1.6 months supply for home $450,000-650,000 in March. This was an improvement from the last two years, but it still gives sellers an advantage. In the luxury housing market (homes sold for over $850,000) Missoula has 8.9 months on inventory, so buyers have more power to negotiate.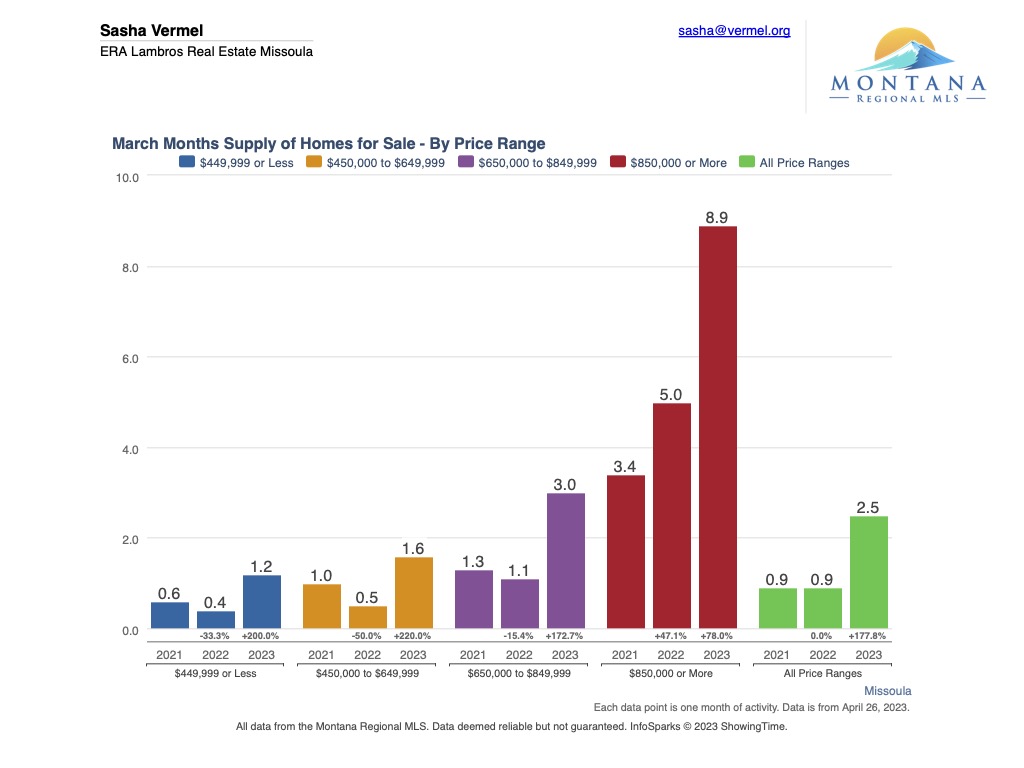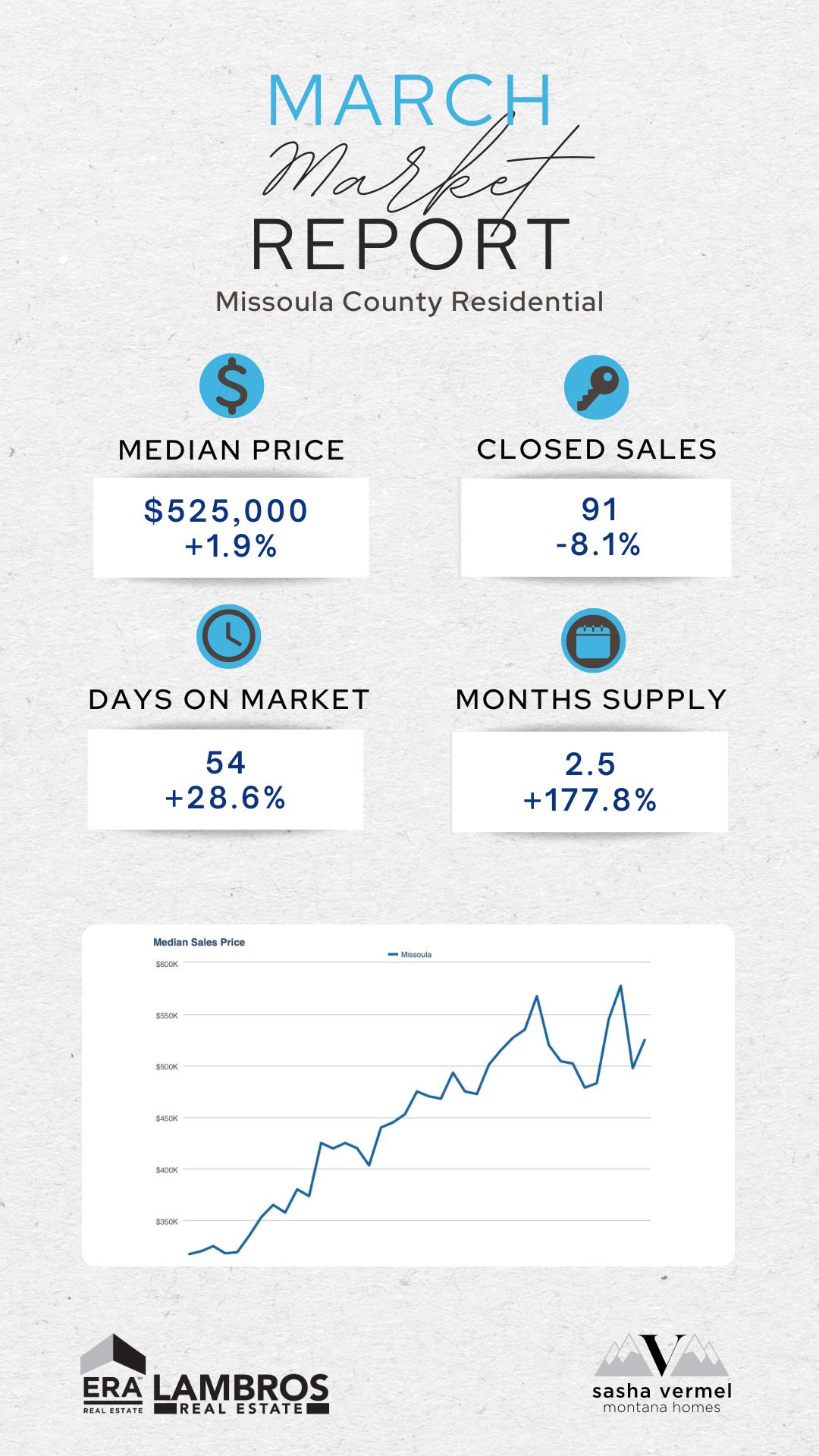 Ravalli County Housing Market Report
Ravalli County's median home price was $565,000, up 27% from a year ago. However, the median price in March, 2022 was surprisingly low, so that percentage is a little misleading. Ravalli county has more inventory relative to demand than Missoula, but there aren't enough low and mid priced homes on the market. It is getting increasingly hard to find a home for under $450,000 north of Stevensville in the Bitterroot Valley.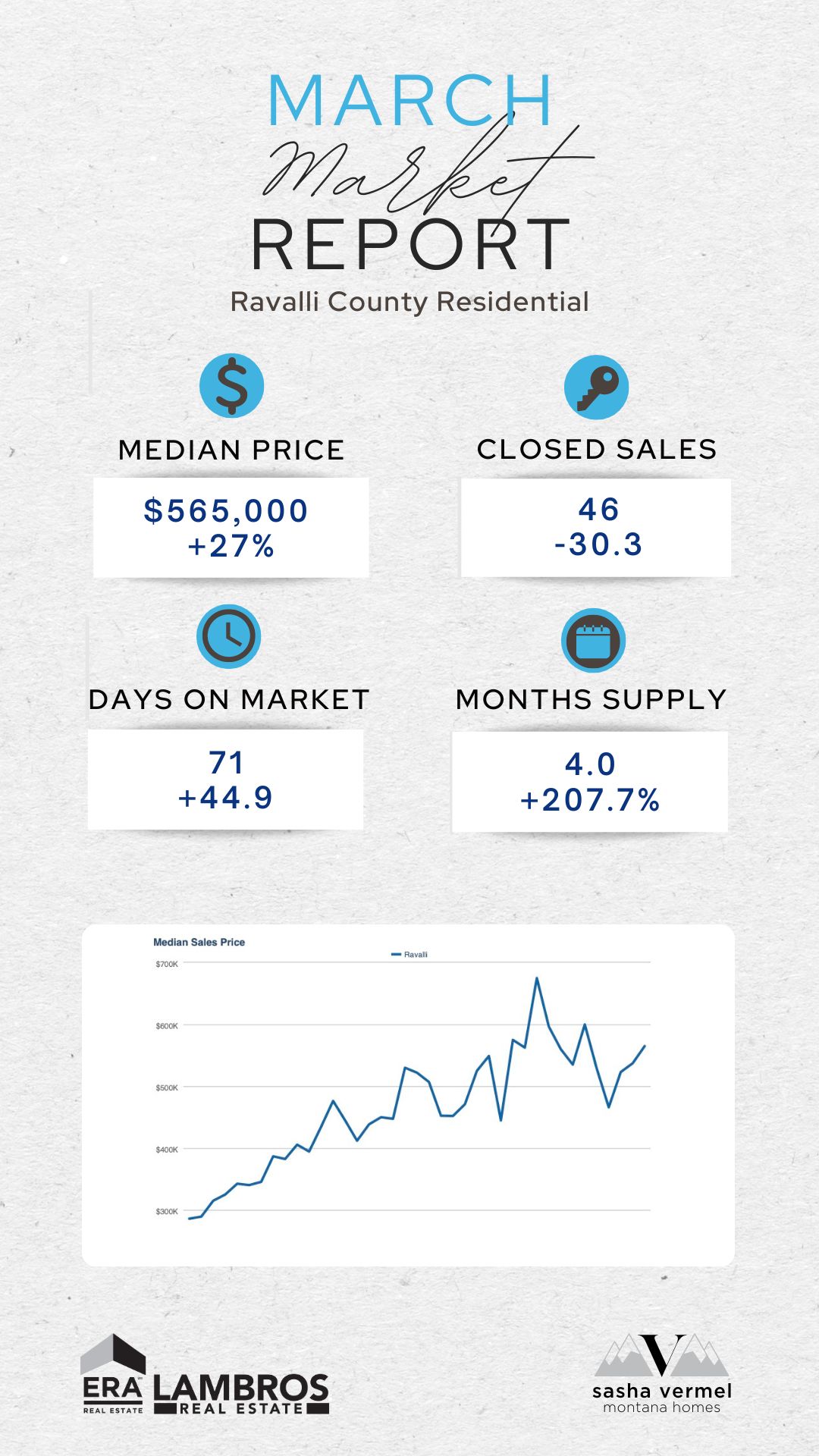 Flathead County Market Report
Flathead County's market looks a little different. Demand for homes is similar to Missoula, but Flathead has a lot more inventory. Comparing, Missoula county had 254 active home listings in March, while Flathead had 707. Looking city to city, Missoula's sellers are getting a median 99.2% of list price, while both Kalispell and Whitefish sellers are receiving 97.1% of list price. As a result, in March the median sales price was down 2.5% from last year at $585,000.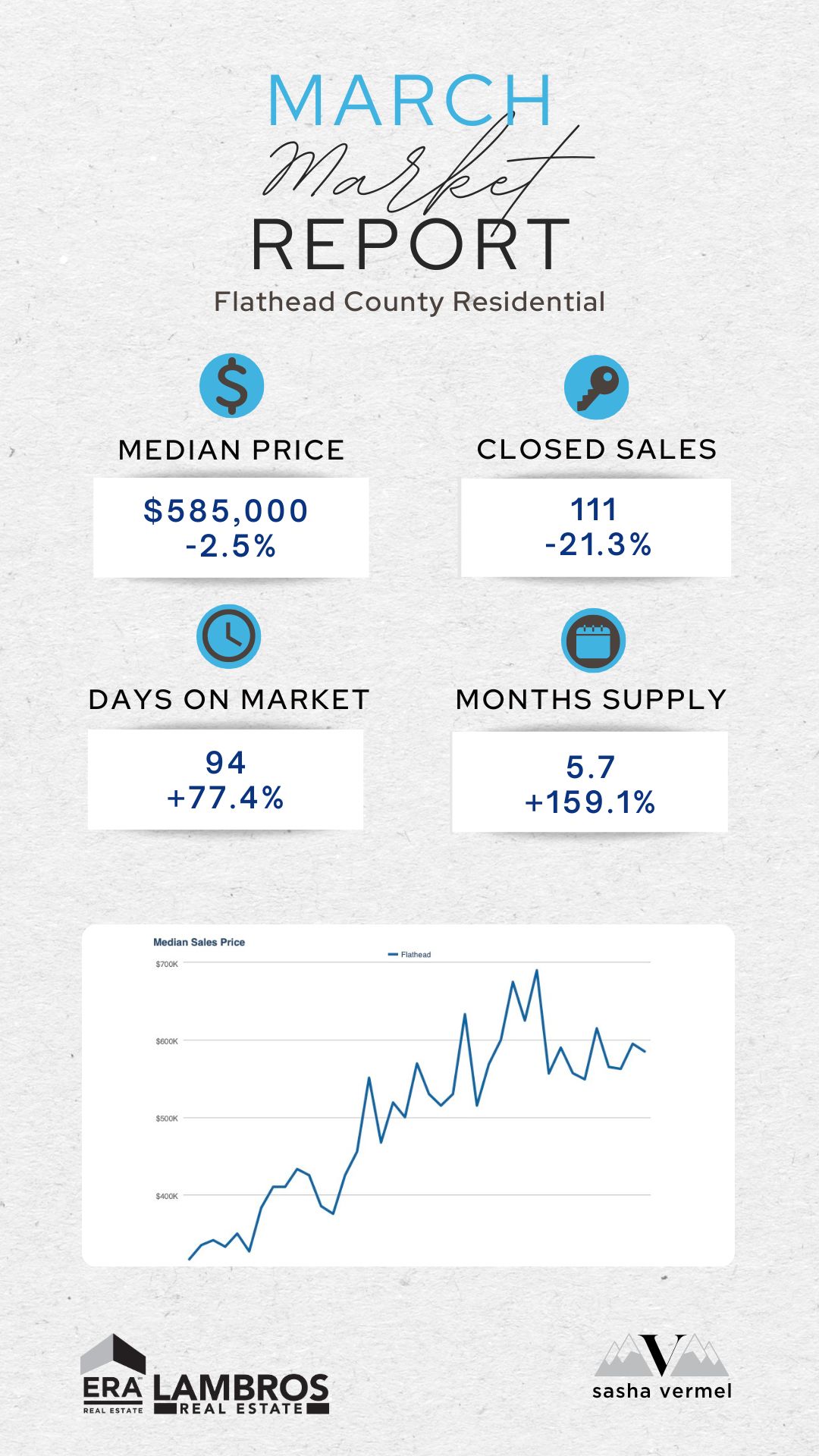 Mineral And Lake County Market Reports
Inventory and sales are very low in both Mineral and Lake counties. Lake county had a larger price correction from last summer, while Mineral county has a median price that fluctuates month to month, but generally trends upward.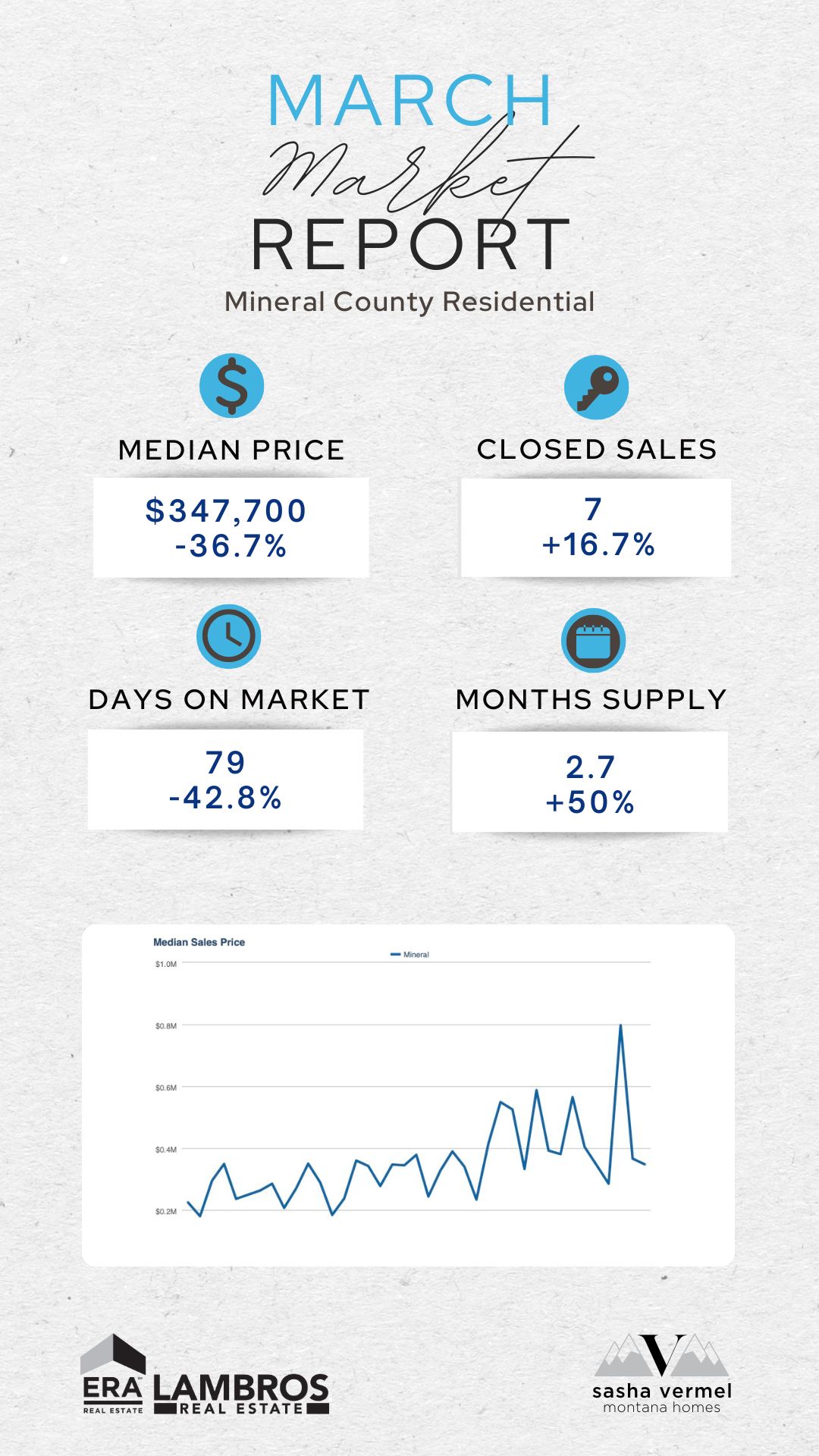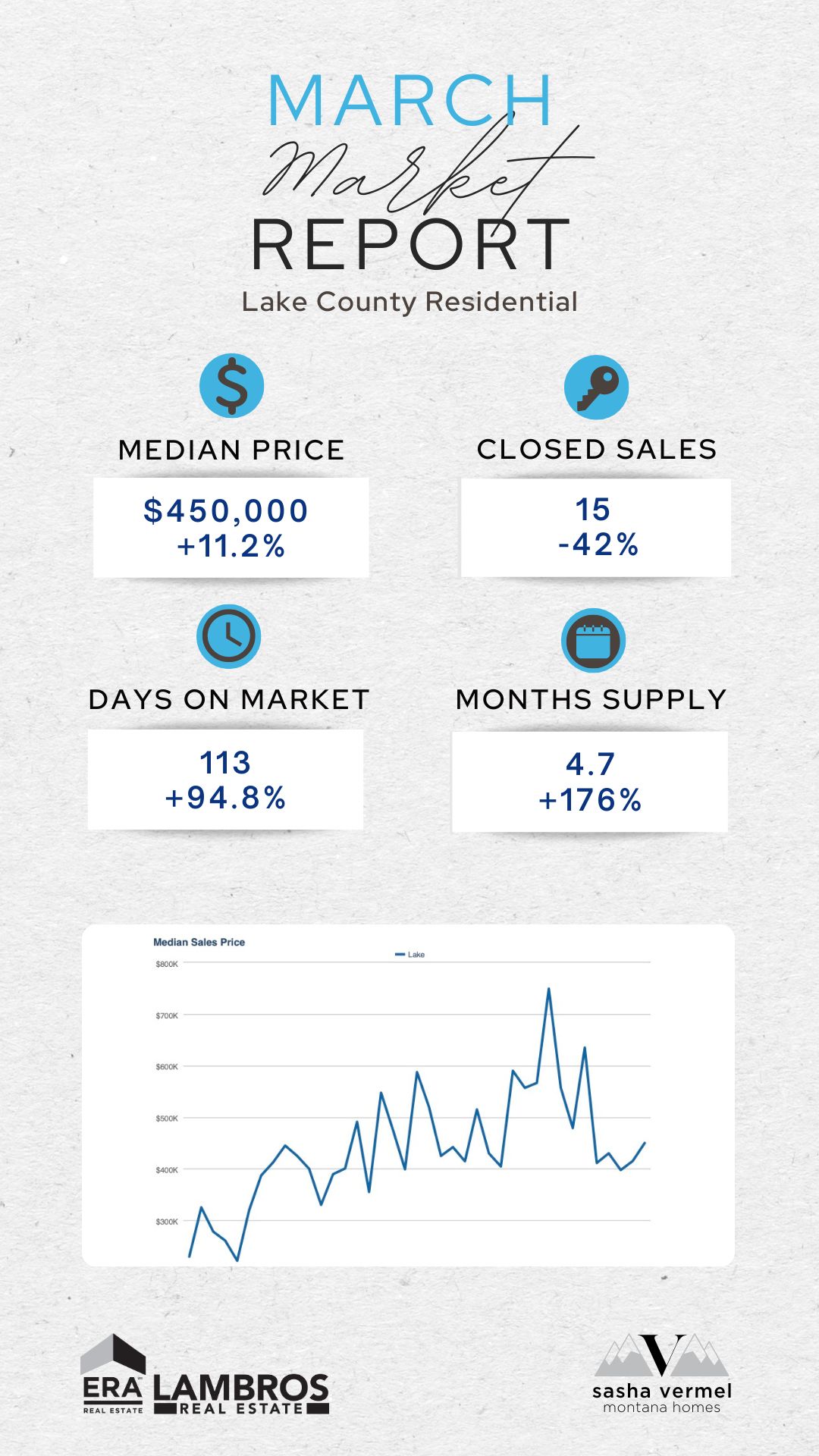 How to Capitalize On Current Housing Market Trends
Now is a great time to sell in Missoula and the surrounding valleys. Inventory is low, and buyer demand is strong.
Looking for a luxury property? Try negotiating for a bargain. Buyers are paying an average of 87% of list price for home over $1,000,000 in Missoula County.
For recent and future buyers, it's worth asking your lender about low or no-cost refinance policies if interest rates decrease in the next six to twelve months. With home prices expected to keep rising, run the numbers to see if it is wiser to buy now and refi later.
To get regular updates on new listings and market data targeted to your neighborhood, sign up for neighborhood news HERE!
As always, if you know anyone who wants to buy or sell and would benefit from this newsletter or my services, please let me know!