I'm watching the snow come down as Western Montana made the very fast transition from late summer sun to two perfect weeks of fall then a winter storm. I love the beginning of winter here, and joked with a client recently that the mountains get all dressed up for us this time of year.
Trends
The biggest story in real estate continues to be interest rates. As I write this the average conventional 30 yr loan is around 7.5%, compared to 3.5% one year ago. Money is just much more expensive to borrow, and demand for home mortgages has declined.
Across the region, both mortgages and closed home sales were down this October vs October 2021. In Missoula County, home sales were down 13.6% from one year ago, while the number was -16% in Ravalli County, and -25.6% in Lake county. Seasonally things slow down this time of year, so we should expect the number of closed sales to continue to decline through February.
Based on the data we have now, It is looking like prices peaked in June and July, with deals that went under contract when interest rates were under 5.5%. Median home prices are down since July, but up double digits since one year ago.
While demand is down, there is still not enough supply of affordable homes. In Missoula county, move in ready homes that are priced in the low to mid price points are still being sold in a few days with competing offers. As of the end of October, there were 271 homes for sale. To compare, Ravalli County, with less than half of the population of Missoula, had 248 active listings. This is why Missoula has 2.5 months supply on the market, and Ravalli county has 4 months supply. (Months supply is the length of time it would take to sell the number of homes currently on the market.) Of the homes that are available, more than 40% are priced over $800,000. That is hardly what most Montanan's would consider affordable.
Looking to sell?
It is a good time to talk to a real estate agent to find out what is happening in your neighborhood. Your home might have 20 people at the open house and be under contract two days later, or it may sit on the market for 81 days or more. It varies widely, and pricing really matters. If you are thinking about selling in the spring I think it is worth planning to put new paint on the walls or do that partial kitchen remodel. Millennials are the largest generation in history and they want to buy. What they don't want (or can't afford) is a home that needs a lot of fixes and updating. There is a much larger demand for turnkey properties than for fixer uppers.
Looking to buy?
There is a saying in real estate that you marry your house, and date your interest rate. There will likely be opportunities to refinance at some point in the future, and most lenders can do a refi at no out of pocket costs to borrowers if you have at least 20% equity in the home. Get familiar with the following routes to make monthly payments more affordable right now.
The Numbers!
Missoula County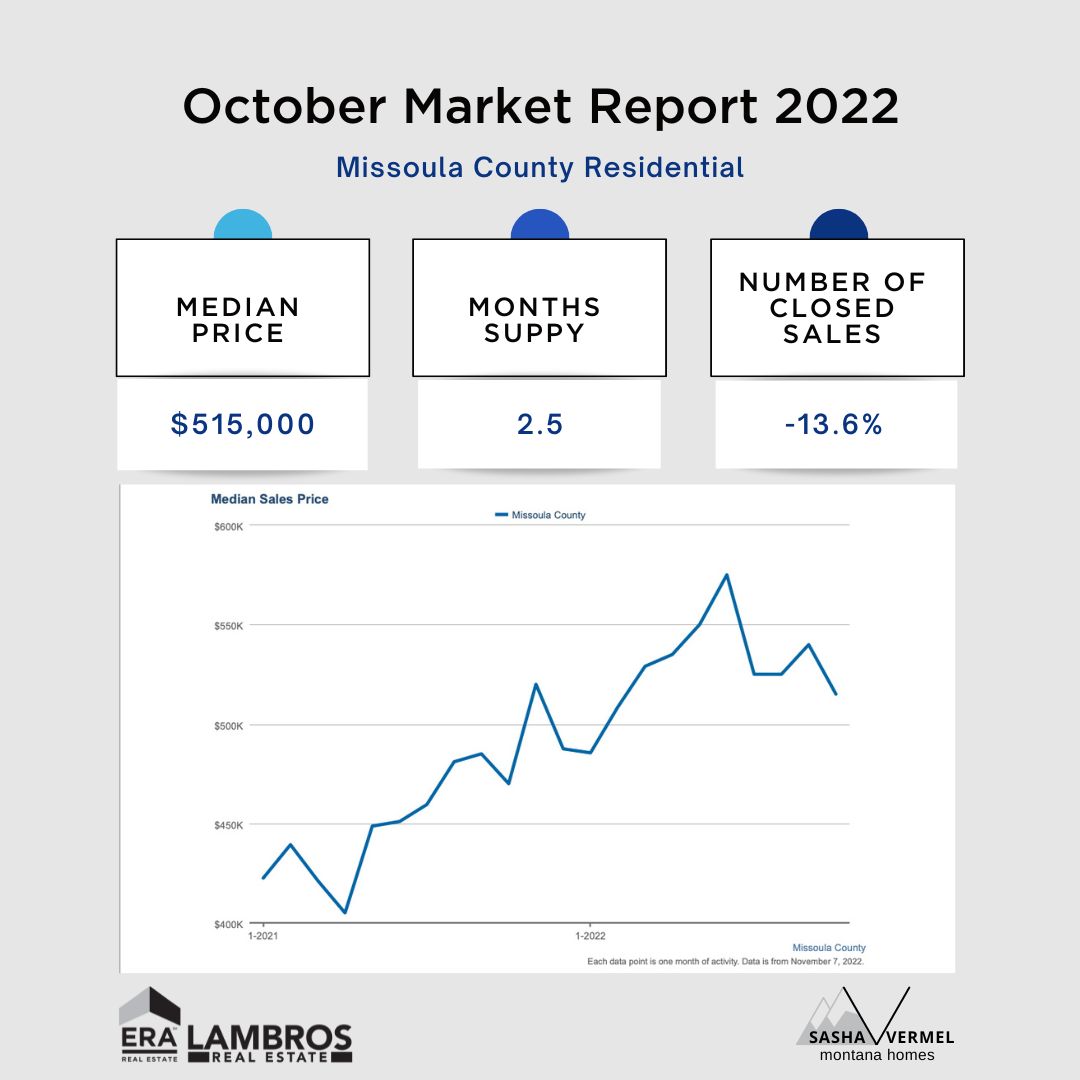 -Missoula County residential media home prices are down 9.6% from the peak of $575,000 in July. Median prices are still up 10.3% year over year.
-Absorption rate: Missoula county has a 2.5 month supply of all homes. There is less than 1 months inventory for homes priced under $500k.
-Sellers are receiving 99.9% of asking price, on average.
-Median days on market before going under contract is averaging 55, but is 47 days for homes priced under $650K
-Closed sales are down 13.6% year over year, for a total of 127 homes in October 2022
-Homes available for sale are fairly flat over the last 4 months. Inventory is up 64% over this time last year.
-There were 271 homes for sale at the end of October. Of those, 116 (42%) were listed for over $800,000. 28% of all homes were listed for over $1 million. 9 homes worth over $800 closed in October.
Ravalli County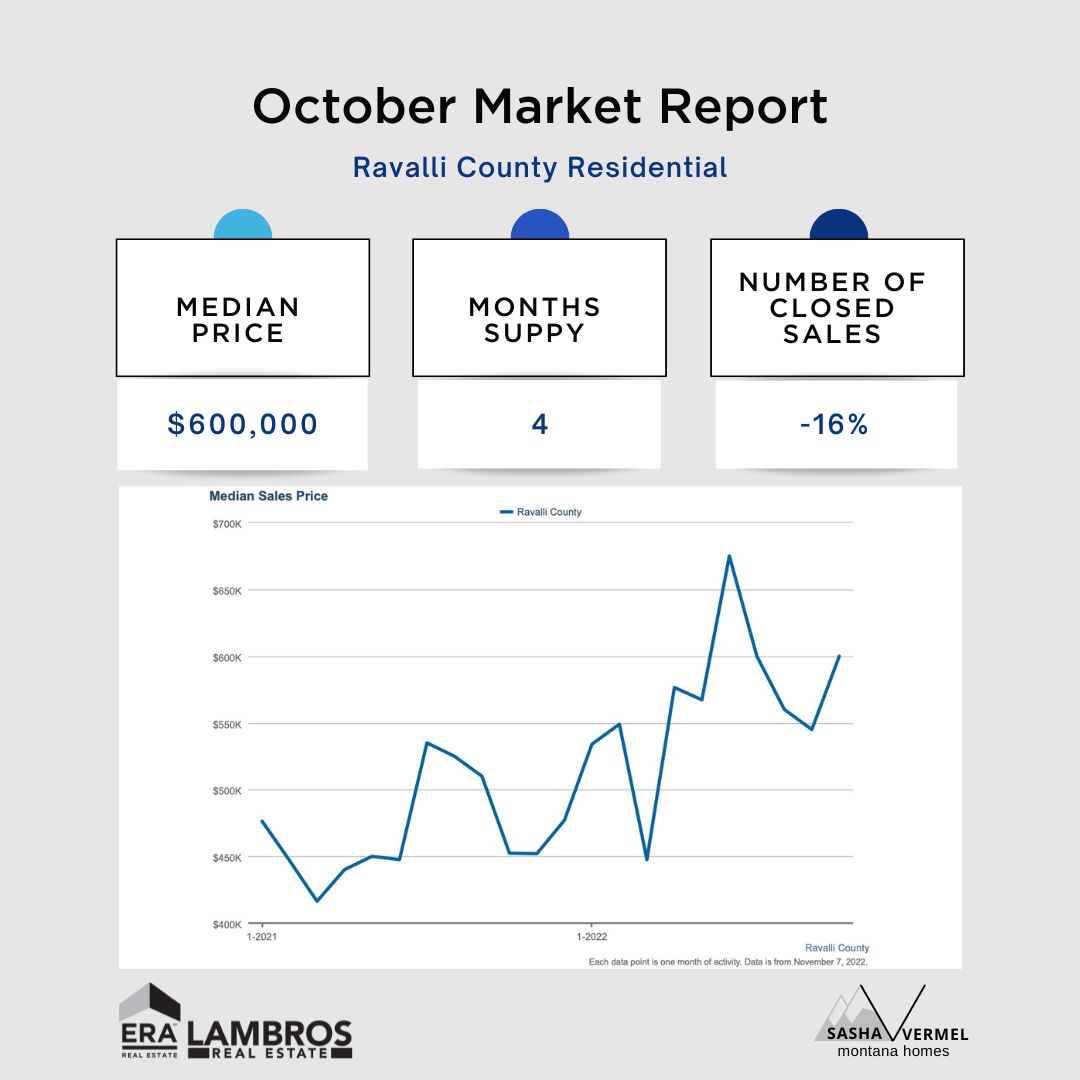 -There are currently 248 homes for sale in Ravalli County, population 45,000, compared to 271 in Missoula County, population 119,000. Of the 248 homes for sale in Ravalli County, 46% (116) of them are priced over $800,000. In the month of October, 13 homes sold for more than $800K.
-The median sales price was $600K, down 11% from July, but up 32% year over year.
-Closed sales are down 16% year over year.
-There were 44% more homes on the market in October than one year ago, and at the rate homes are selling, it would take 4 months to sell the number of homes that are currently on the market (months supply).
Lake County
-Median residential home prices were $635K in October, down 15% from their peak in July, but still up 47.7% year over year.
-New listings were down 28% from this time last year.
-51% of all available home listings in October were listed for over $800,000.
-Closed sales were down 25.6%.
-There is currently 3.9 months supply, with only 2 months supply of homes listed under $499,000
-Sellers in Lake county received a median percent of list price received of 97%. Down 3% from one year ago.
Mineral County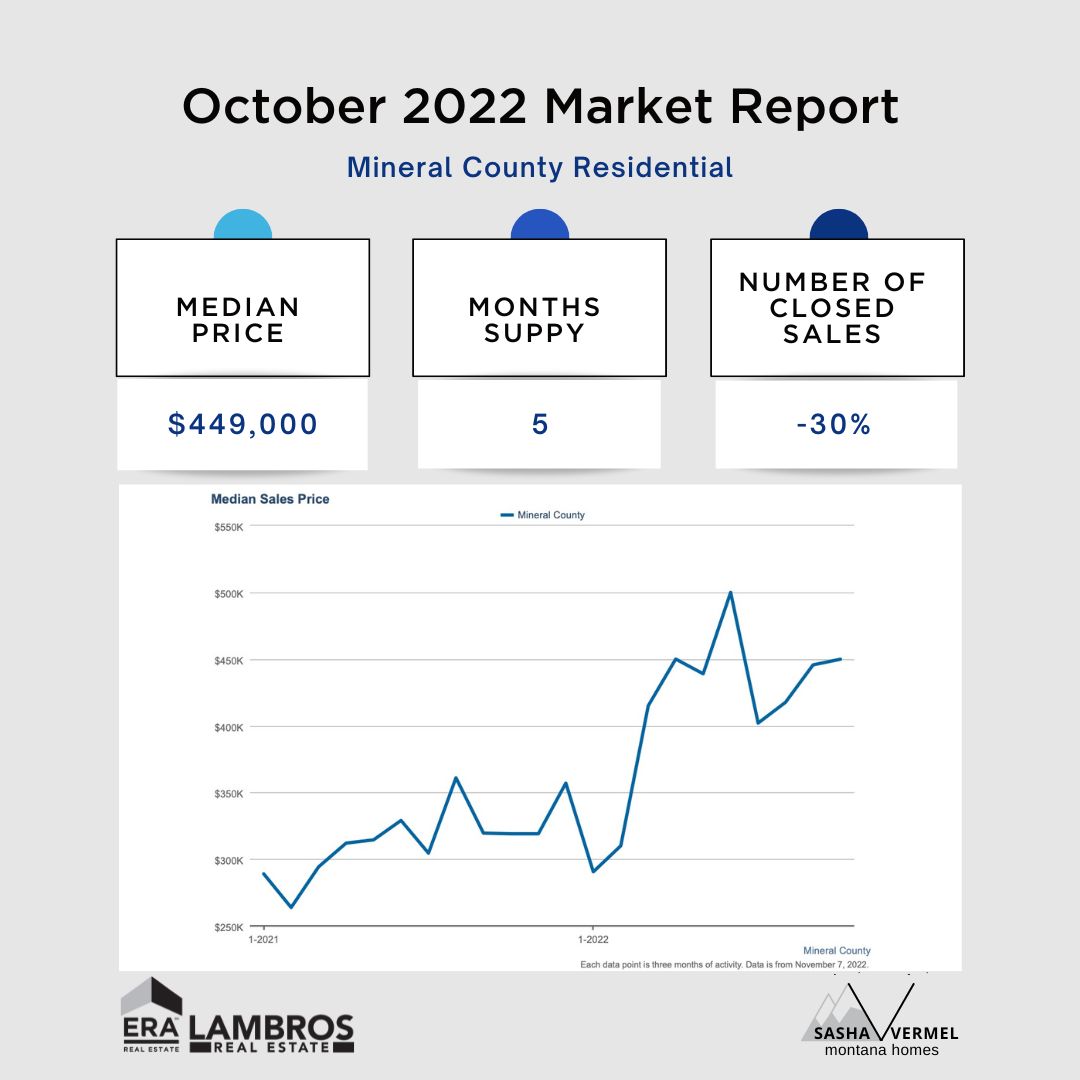 -Median sales price for closed sales was $449,900 in October, up 41% from one year ago.
-Housing inventory is up 20% from a year ago.
-Closed sales are down 30% from October of 2022.
-Mineral county ended October with 5 months supply of homes on the market.
If you would like to know what is happening in your neighborhood, I would be happy to give you a more specific snapshot. Feel free to drop me an email, or give me a call at 406-404-6241. You can even register yourself to receive monthly updates of your neighborhood here https://sashavermel.com/neighborhood-news