The Big Picture
After two years of steep home value appreciation, and mortgage rates doubling in the last 6 months, the July median sales prices for homes dropped across Western Montana. This is the story I expected to tell in June, but instead we had the highest ever median home prices recorded in Missoula, Ravalli, Mineral and Flathead counties. In Missoula County the median residential home sales price fell from $575,000 in June to $525,000 in July, a 9% drop in one month. In Mineral County, the median home price fell 34%. Is this a blip, or is this the beginning of a downward trend? Will we level out into a new normal? These are the big questions. Sometimes the median price drops from one month to the next, it's the overall trend that matters and the trend has been up and up and up.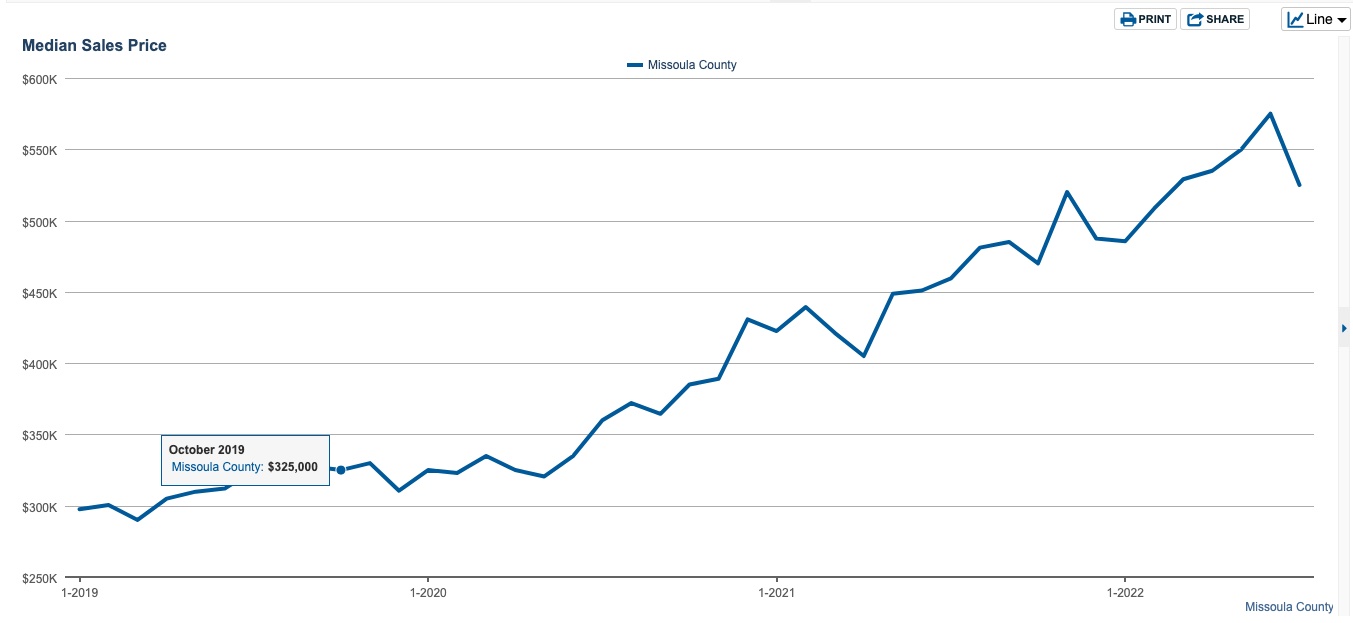 The "price falling" narrative feels right because we are seeing so many price reductions on active listings. It seems intuitive that higher interest rates mean fewer qualified buyers, and two years in a row with 23% annual price growth (most homes doubled their value since 2019) mean that many people have a lot less purchase power than they used to, or have been priced out of the market all together.
One other trend I'm seeing across Western Montana is that the number of new residential listings is down a little from previous years, but the number of closed sales is down a lot. The combination of high prices, higher interest rates, and not enough desirable property to choose from is driving down the number of closed sales. Closed land sales are lagging new land listings even more than residential- this may be a combination of pessimism about home values in the future and a reaction to the high building and materials costs of the moment. 
From reading this, you might jump to the conclusion that "offer dates" and multiple offers are a thing of the past. You would be wrong about that. It really varies listing to listing. Homes that are priced a little under market value, and newer or updated homes in desirable areas can still draw 8 offers within days of being listed.
Advice for Buyers
Buyers should be extremely conscious of listing price right now. Make sure to look at a CMA before making any kind of offer. Some homes are priced low to drive interest, some home are priced high just in case the seller can get the top dollar. Initial list prices are all over the place right now as agents try to find the magic number to bring in offers. If you like a home, but the price seems high it may be worth waiting to see if the price goes down later or even make an under asking offer to see how the seller responds.
Advice for Sellers
Are you wondering if you should replace the flooring, update the kitchen or refresh the paint? At this moment there is such a strong demand for move-in ready homes that I think you either need to do the updates, or be prepared to sell your home for less and for it to take longer to get an offer. For people selling luxury homes- there is less demand at the moment and more inventory than there used to be. Luxury sellers can expect their homes to stay on the market longer. 
Want to get my Market Update in your email inbox every month, plus get updates and new listings on a particular zip code? 
Sign up for Neighborhood News here: https://sashavermel.com/neighborhood-news
Find the charts and numbers for your county below!
Missoula County Residential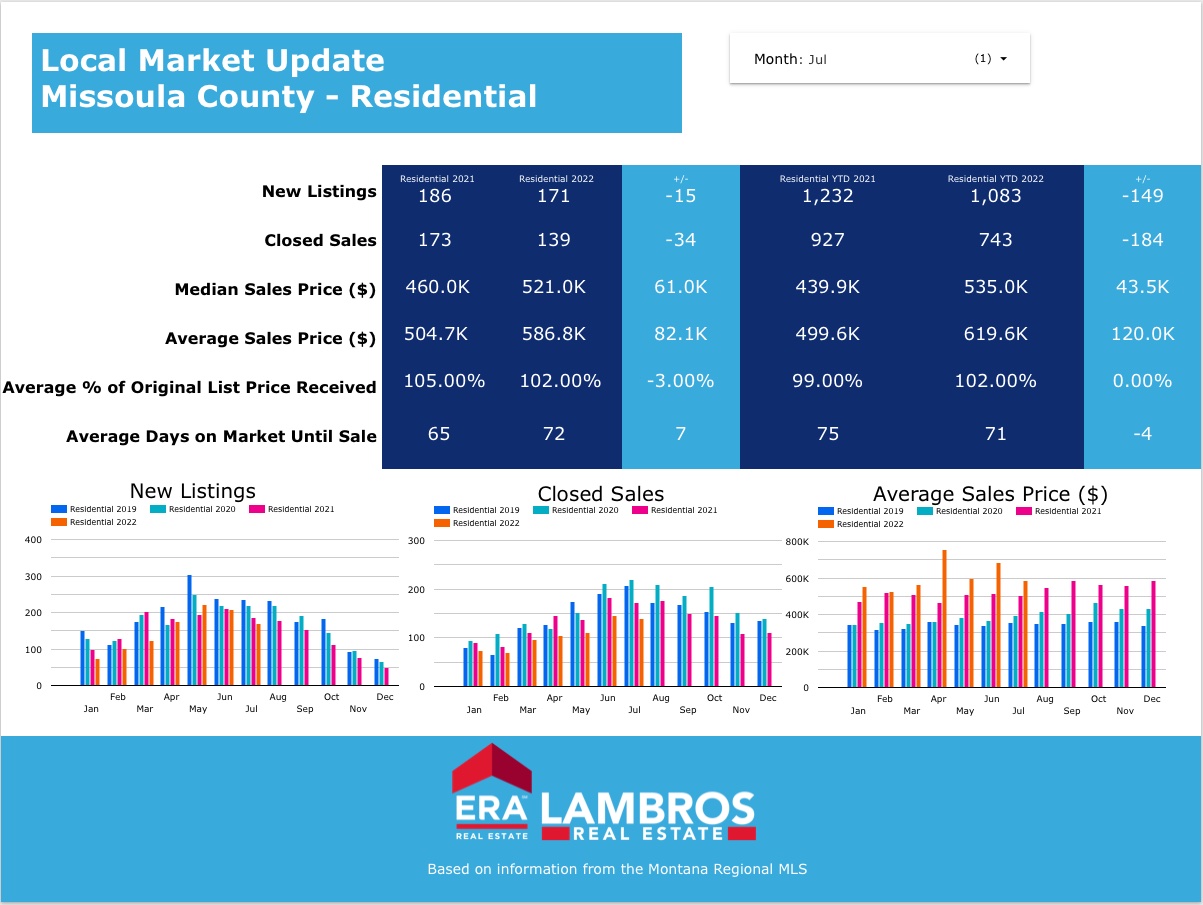 There were more homes on the market this July than at any time since August of 2020. New listings are down two months in a row, and down from this month the last 3 years. The average percent of asking price received on closed sales is down 3% from this time last month.
Median sales price fell 8.6% from last month.
Median days on market before going under contract seems to be settling into a new normal.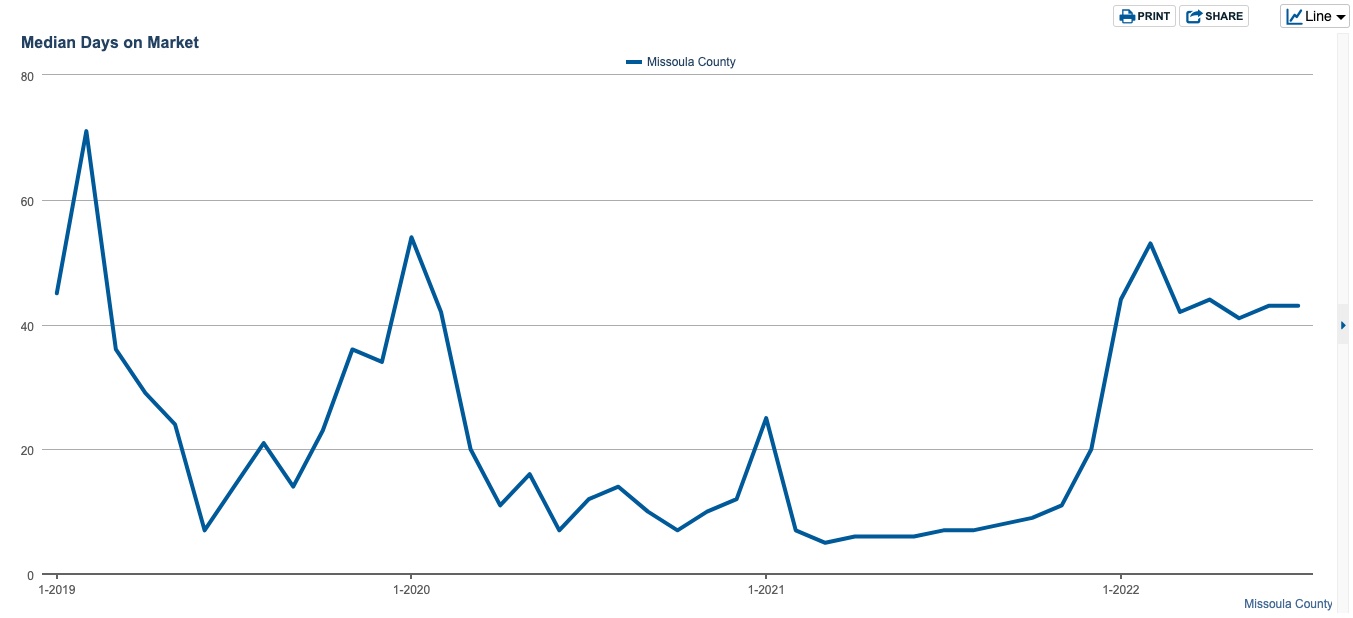 Ravalli County Residential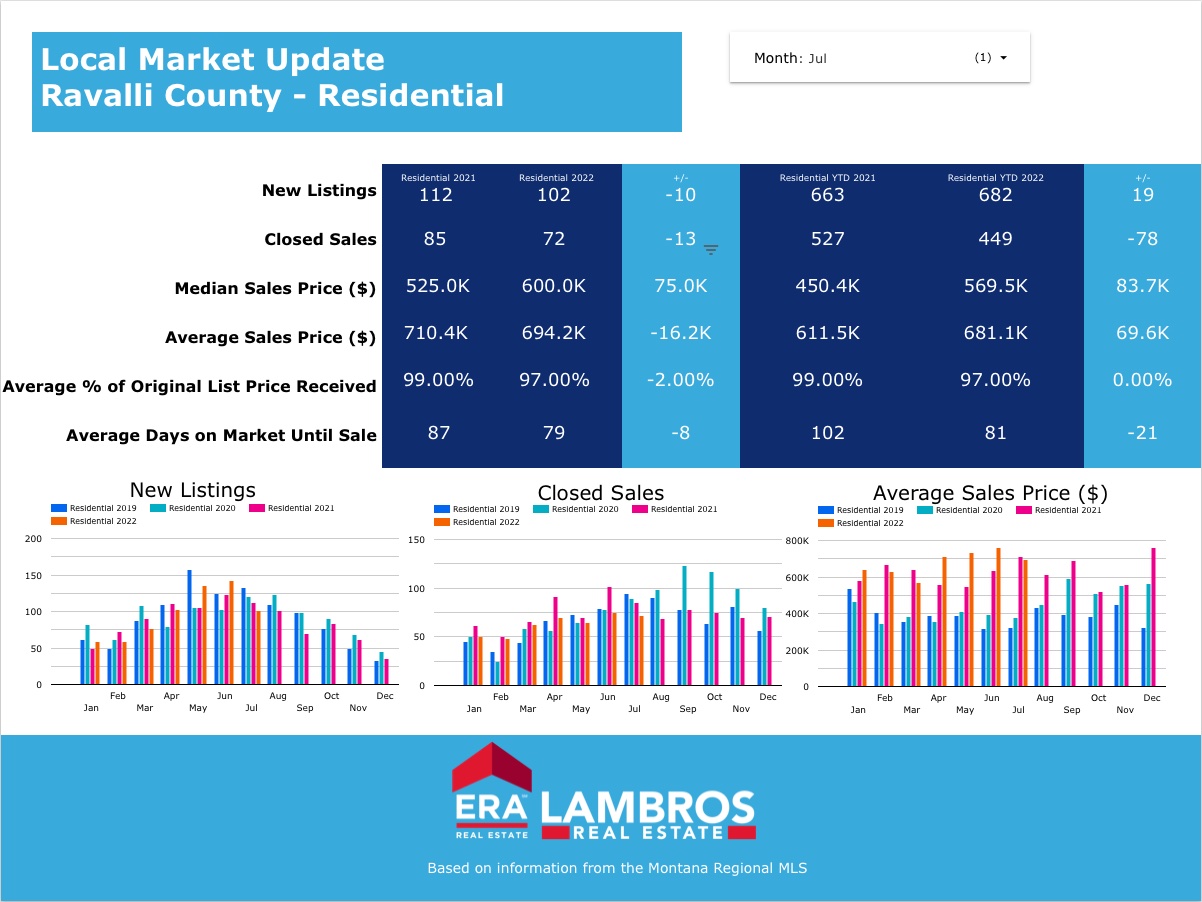 Year to date new listings are up slightly, but closed sales are down 15%. Median sales prices for Ravalli County was at $600,000 in July. And that's down from $675,000 in June. Everyone wants the story that prices are coming down, but the trend line continues up. Even $600k is the second highest ever monthly median price in the county. Average % of list price is down to 97% for both the month of July and year to date in the county.
Ravalli County had 3.8 months of supply as of July, the most since June of 2020. That breaks down to 9 months of inventory for homes priced over $800k, and 2.2 months of supply of homes listed for under $600k.
Lake County Residential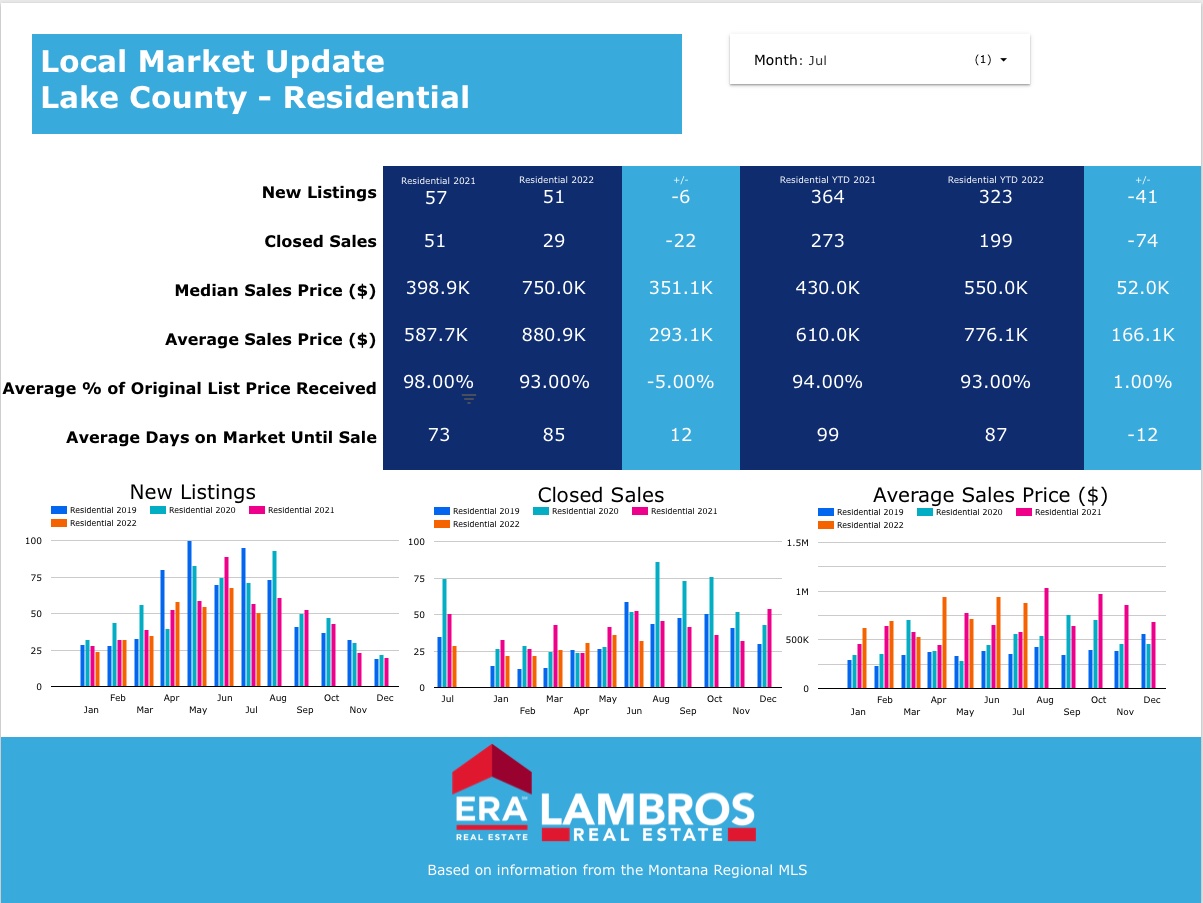 New listings are down 11% year to date, but closed sales are down 27% year to date.
Average % of original list price on closed sales is all the way down at 93%.
Breaking the trend of most of the region, Median Sales price hit a new high in Lake County in July, topping out at $750k, with an average sales price of $880.9K. Lake county currently has 4.3 months of housing supply, more than any county in the region except Flathead.
Flathead County Residential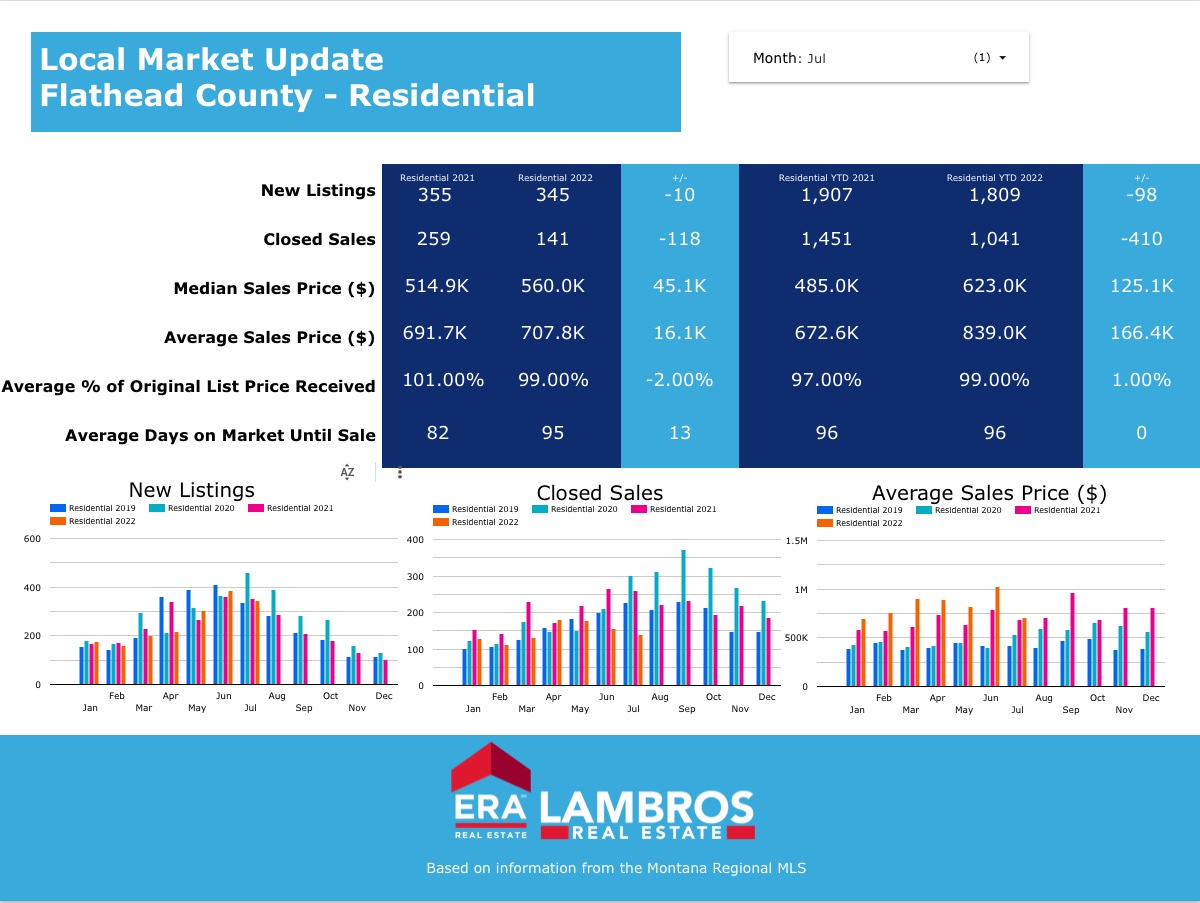 New listings year to date are down a little- 5%, but closed sales are down a lot- 28% year to date. With fewer closings there were 4.7 months supply on the market.
Median sales price went from $697,000 in June, While the July median sales price went down to $560,000.
Missoula County Land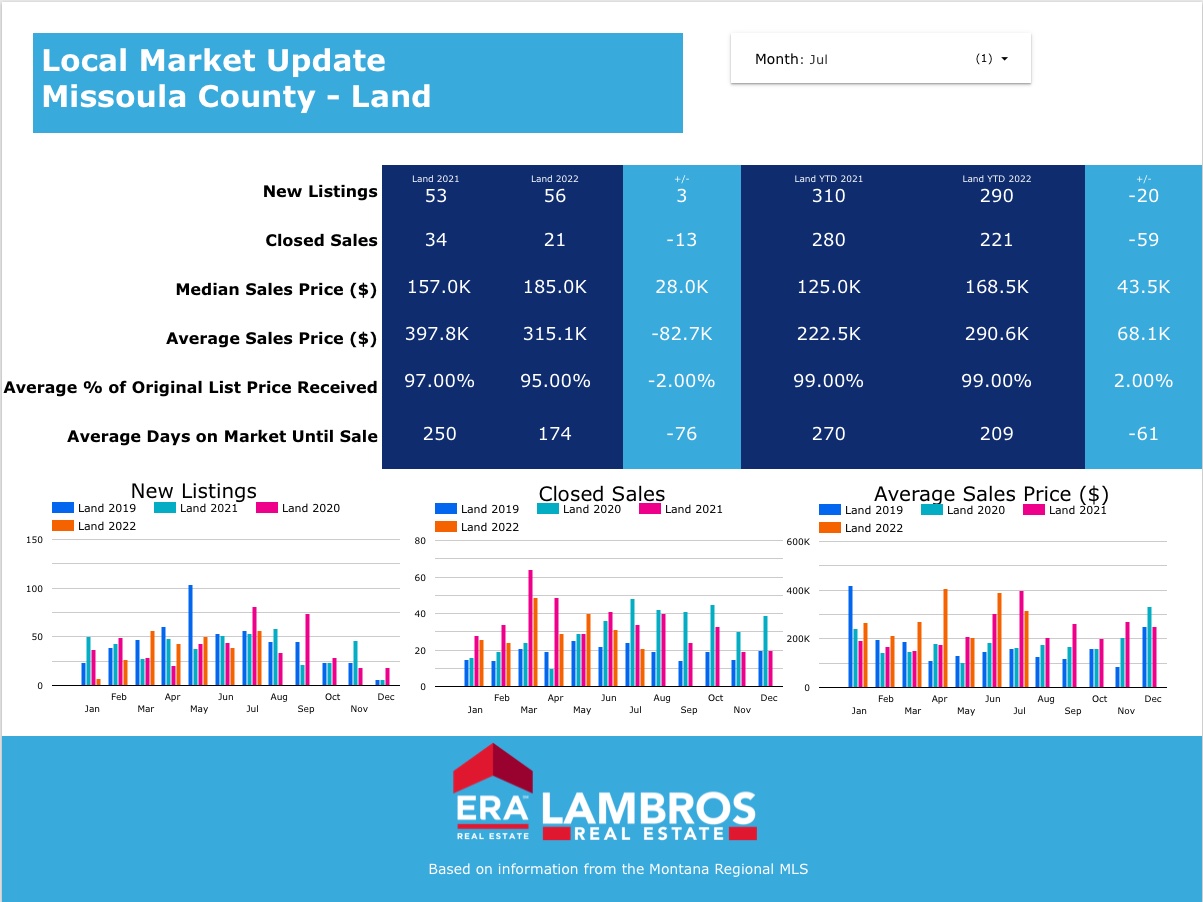 For the month of July, average % of list price was only 95% despite being 99% ytd in both 2021 and 2022.
The July Median sales price was $185K, and $168k year to date a 34% increase from this time last year.
Average days on market was 174 days in the month of July.
Ravalli County Land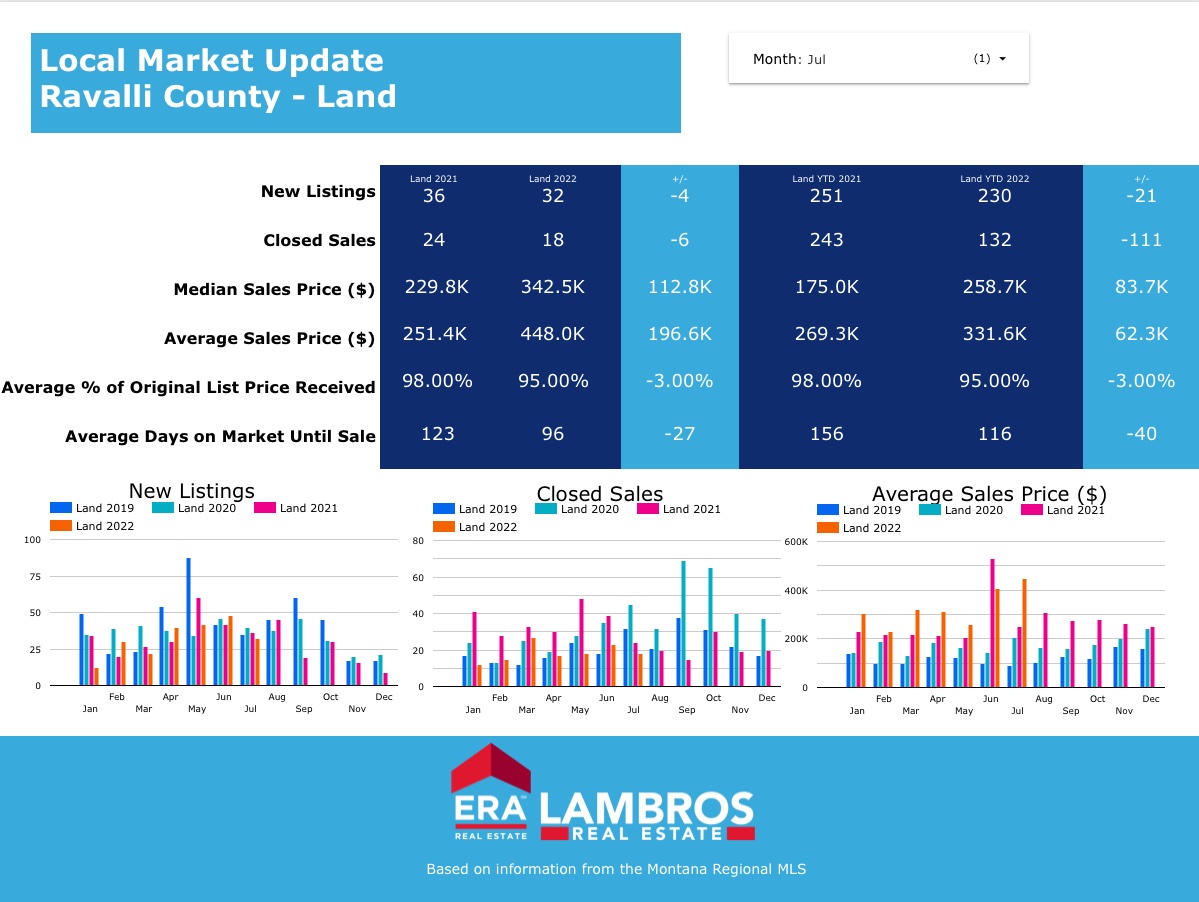 New listings are down a little in Ravalli County, but new closed sales year to date are down 46%. Compare 234 closed sales year to date in 2021, vs 132 closed sales ytd in 2022. Like Missoula County, average % of list price was 95%. The July Median sales price of Ravalli County land sales was $342k, up 49% from a year ago. Average days on market until selling was down to 96 days in July, and 116 days year to date.
Lake County Land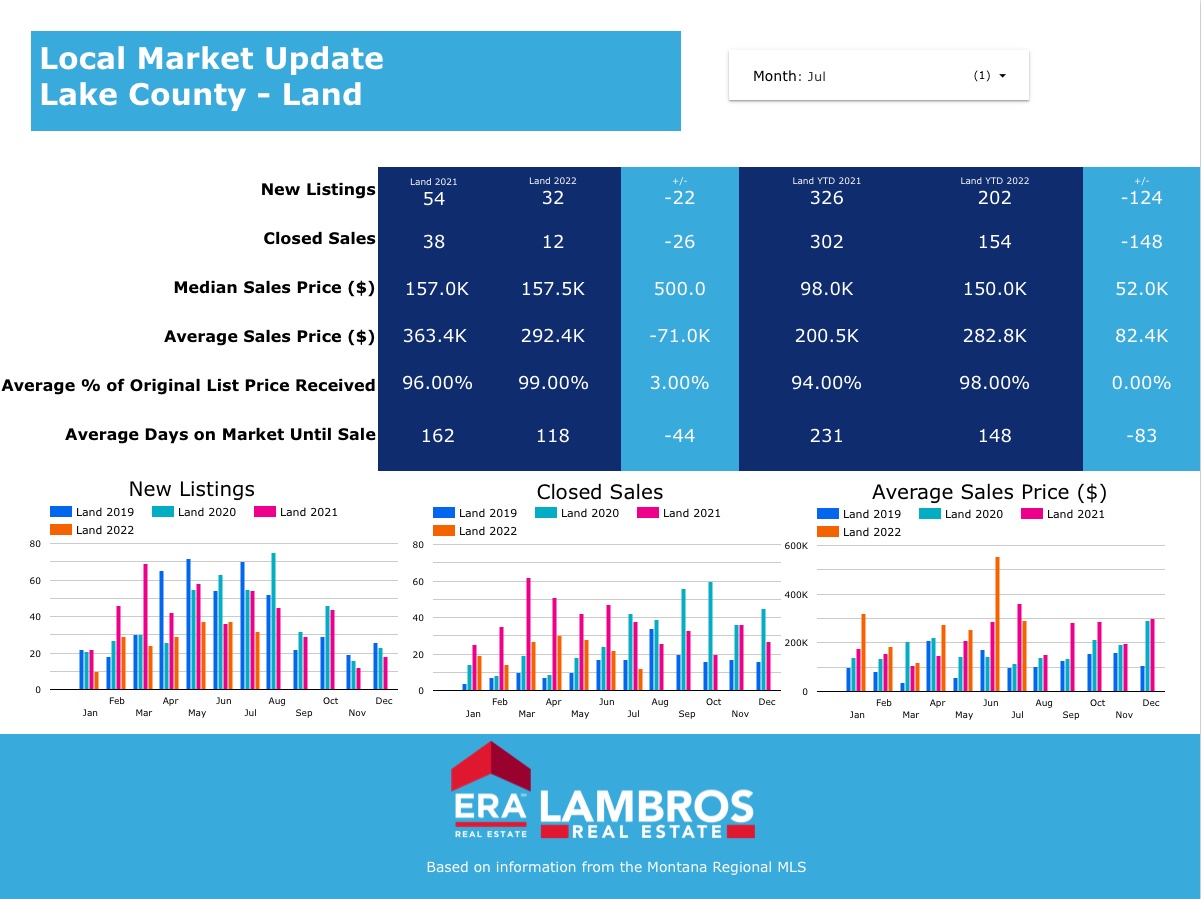 New listings are down 38% year to date for 2022 compared to 2021 in Lake County. With only 12 sales in the month of July, the median sales price was $157k, and the average was 292.4k. Average % of list price was 99% in July, and 98% ytd.